5 Best Residential Properties For Sale In Delhi-NCR
Are you looking for the 5 best residential properties for sale in Delhi NCR? With the real estate market booming, finding a suitable property that meets all your requirements can be daunting. The Delhi NCR region has some of the best residential properties available in the country, offering everything from luxurious villas to affordable apartments. Whether you are looking for a low-maintenance property that you can rent out or a luxurious villa to call home, there is something for everyone in Delhi NCR. In this blog, we will discuss the various residential properties available in the region and how to find the best one for you.
5 Best residential properties for sale in Delhi NCR
1. Shapoorji Pallonji Joyville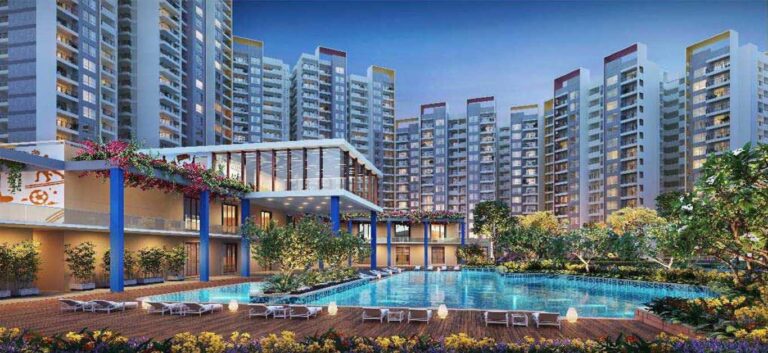 Shapoorji Pallonji Joyville is a residential real estate project located in Sector 102, Gurugram, that offers 3 BHK homes. Residents of Joyville Gurugram can enjoy various amenities, including colourful parks, a 24,000 sq. ft. Clubhouse, 9 pocket amenity spaces, and 31+ additional amenities. But that's not all; Joyville Gurugram also offers Jio WiFi Mesh with high-speed internet of up to 1 GB/s in every room of the home and free HD voice calling within India through your landline or smartphone. In addition, residents can enjoy India's TV calling and conferencing solutions, Smart TV with access to India's first-ever integrated platform with TV shows, movies, video on demand and your favourite applications with voice commands on Jio Remote, India's own multi-player gaming platform with zero latency, and convenient safety features including Smart Home Hub, emergency/panic button, a smart indoor siren, combustible gas leak sensor and video doorbell.
If you are looking for a home with a variety of amenities and a secure living environment, then Shapoorji Pallonji Joyville is a perfect choice. Whether you are looking for a place to work, relax, or enjoy the outdoors, Joyville Gurugram has something for everyone. With spacious homes and a wide range of amenities, Joyville Gurugram is the perfect place to call home. So, experience life at its best and be part of the distinguished Joyville family.
2. LA VIDA BY TATA HOUSING
LA VIDA BY TATA HOUSING is the perfect place to upgrade your lifestyle and experience exemplary living. Spanning 12 acres of lush greenery, this residential project provides spacious homes with plenty of privacy and upscale amenities.
The multi-layered, multi-utility Clubhouse is like no other and offers a variety of experiences for you and your family. Enjoy amenities such as a café lounge, a pool table, a tennis court, a spa, a skywalk, a cycling track, a cricket practice pitch, and more.
At LA VIDA BY TATA HOUSING, you can get a smart start to your life with luxurious amenities designed with you in mind. You can experience the best of what life offers, from the clubhouses to the recreational activities. So, come and experience exemplary living at LA VIDA BY TATA HOUSING.
Godrej Meridien is the place to be if you're looking for a luxurious lifestyle experience. This residential real estate project has the best residential apartments in Gurgaon that offers 3 BHK homes located in Sector 106, off the Dwarka Expressway. Every day, you can find unique lifestyle experiences, such as wine tasting and celebrity styling.
This project is in close proximity to all the major hubs of commerce, employment and social infrastructure. You can enjoy excellent connectivity to Delhi and other major areas via Dwarka Expressway. Also, the proposed metro will connect to Huda City Centre, close to Gurugram Railway Station and the International Airport.
Godrej Meridien provides luxurious residences and offers a 6132 sq. mts Gurugram's finest Clubhouse. Enjoy a grandeur lifestyle and experience the best of French hospitality. Once you check into Godrej Meridien, you will never want to step out again. Don't miss out on this once-in-a-lifetime opportunity, and come live the Meridien lifestyle at Godrej Meridien.
Are you looking for a place to live that offers luxurious amenities, spacious homes, and a resort-style atmosphere? Look no further than Shobha City. Located near the Dwarka Expressway, this 39-acre integrated township boasts 8.5 acres of a park, a 1-acre lakelet, a 90-metre-dia cricket ground, two clubhouses, and over fifty top-notch amenities.
The Vista Residences, the project's final phase, offer Lutyens-inspired amenities and spacious homes. The amenities include a Gateway Park, Vista Gardens, a 9-hole Putting Green, a Club Oval Clubhouse, a Cricket Ground, a Camping Ground, an Outdoor Gym, a Tennis Court, a Children's Play Area, a Multipurpose Hall, a Basketball Court, a Party Lawn, and a Pet Park.
Shobha City is the perfect place to call home for those seeking a luxurious lifestyle with plenty of amenities and recreational activities. With over 1,100 families already living in the 14 towers, now is the time to join the Shobha City community.
Signature Global 37D is the perfect choice for an independent luxury floor in Gurgaon. This gated 25-acre housing complex offers low-rise premium independent floors, car parking, dedicated lifts, a badminton court, a yoga & meditation area, an open-air amphitheatre, a swimming pool, and a multipurpose lawn. With more than 60% of the area dedicated to open and green spaces, this project will provide the perfect environment for peaceful living.
The location of Signature Global 37D is also one of its major attractions. Located just two minutes away from the Dwarka Expressway and the proposed metro station and five minutes from Hero Honda Chowk and NH-8, the project is also close to IGI airport, Sultanpur national park, bird sanctuary, Gurgaon railway station, Alpine School, Euro International School, Signature Hospital, shopping malls and multiplexes.
Moreover, the project is also RERA-approved and Indian Green Building Council-certified, making it a cost-effective and safe investment. With its high-quality finishes, fittings, and high-street retail markets for residents, Signature Global 37D is the ideal choice for anyone looking for a luxurious and peaceful living experience.
Assets Galleria at your service
Assets Galleria is the best real estate broking company in Delhi NCR, providing real estate solutions at the best price. It is a one-stop destination for all your real estate needs. Whether searching for a commercial or residential property, you will find the best offers and deals here. The team of experienced professionals at Assets Galleria are well-versed in the different aspects of the real estate market. They can provide the best solutions according to your needs and budget.
They offer a wide range of services, from helping you find the best property for sale to providing you with expert advice on making the best investments. With their extensive network of contacts, they can provide you with the latest information on market trends and prices. They also provide personalised services, such as financing and legal advice. All leading projects have their apartment with commercial space.
So, if you are looking for a reliable and experienced real estate broker, visit Assets Galleria and get the best solutions for your real estate needs.
In conclusion, the Delhi NCR region has many residential properties available for sale. Whether you are looking for a luxurious villa or an affordable apartment, there is a property for everyone in this region. From the ultra-luxurious Shapoorji Pallonji Joyville to the breathtakingly beautiful Shobha City, there are plenty of options to choose from. With the real estate market booming, now is the perfect time to invest in a residential property in Delhi NCR. With the help of this blog, you can now make an informed decision and find the best residential property for sale in Delhi NCR. For the best offers on sale and purchase, visit Assets Galleria, your one-stop destination for the best residential and commercial properties in Delhi NCR.